My educational career involves a Bachelor of Science degree from Wilfrid Laurier University majoring in Psychology and Biology, a Behavioural Science program from George Brown College, as well as a Master's degree in Counselling Psychology from Yorkville University.
Work
I am currently a member in good standing with the Canadian Counselling and Psychotherapy Association and with the College of Registered Psychotherapists of Ontario.
I integrate bits of my personal history and insight into sessions with my clients. I often reflect back on my experience of starting my undergraduate degree in Waterloo, Ontario. This was a such a significant personal transition, as I was navigating so many aspects of change and uncertainty.
I was suddenly faced with a new environment, new responsibilities, and new relationships, leaving me feeling anxious and insecure. My personal process of adapting to this change was challenging, and it was only during this time that I recognized my current patterns of coping no longer served me.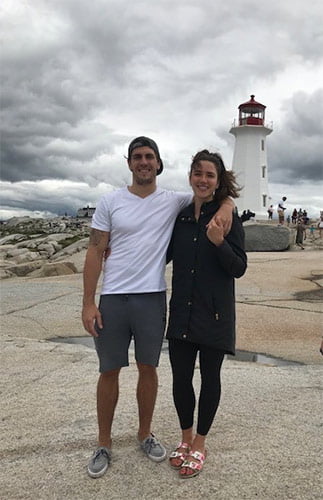 During this time, I also found the strength to test my own perceived limitations through small risks. I integrate this insight into my work, as I recognize how difficult change can be, regardless of the context. I do believe that it is in these spaces of uncertainty that we can access parts of ourselves which we may not have relied on before.
Change can provide us with an opportunity to explore new ways of relating to ourselves and our worlds, which can feel both scary and liberating. This experience taught me to lean in and trust my own intuition. I remind myself of this lesson often when I am faced with uncertainty, as a reminder to come back to myself and check in with my own compass.
Personal Life
In my personal life, I love spending time outdoors, walking along the beach front with my French Bulldog named Bianca, enjoying a home cooked meal, and (shamelessly) watching reality TV shows with my husband.
I am a textbook introvert, so ensuring I have enough quiet time alone will always be important to me. I express myself through words and writing, which has become a channel for processing my own experiences and gaining personal insight.
I enjoy reading fiction, particularly mystery and psychological thrillers (however, I could not sit through a horror movie even if you paid me). Two of my favourite authors are Liane Moriarty and Robyn Harding.
I am passionate about mental health and well-being and I love being able to do what I do for work each day.